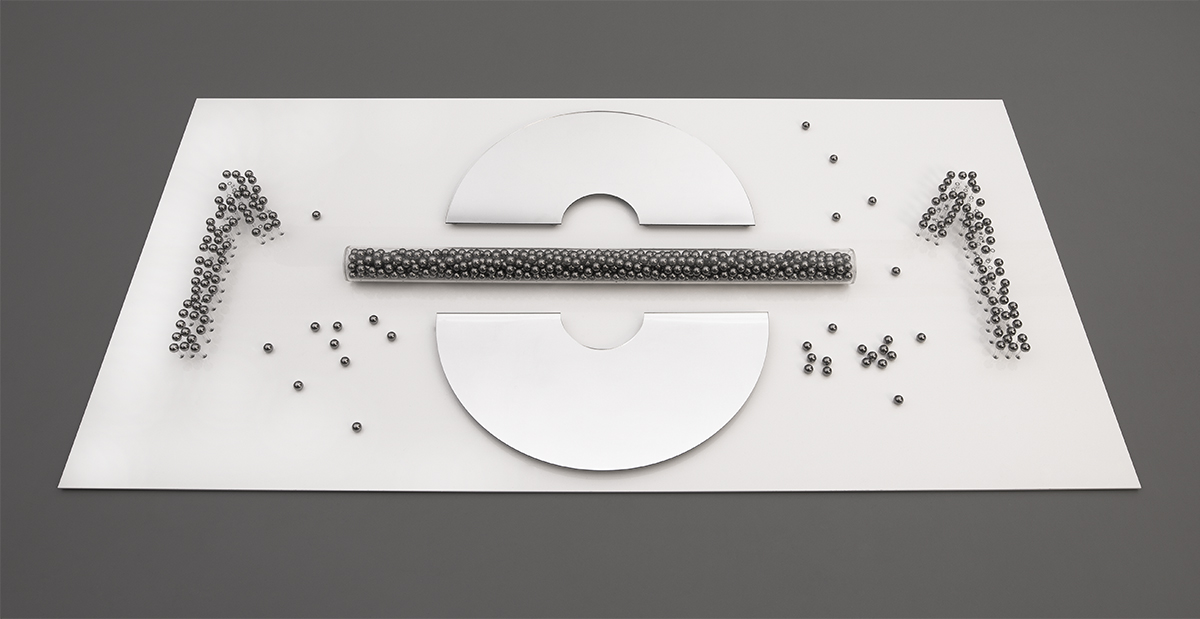 FAUSZT PÉTER
A KÉNYSZER FELMÉRÉSE

Kiállítás és könyvbemutató
Megnyitó: 2023. október 26. 19:00
Megtekinthető: 2023. október 27. – 2023. november 24.

Az elmúlt években traumák sorával találkoztam, s ez elemi erővel a múltam szobájába taszított. A szobából terem lett, a kialakult tér közepére fészket raktam. A terem berendezése és a falai között cikázó érzelmek megijesztettek, de egyre jobban kezelhetővé váltak. Hol összezsugorodtak, hol tágultak, végül már otthonosan éreztem magam ebben az álomszerű világban. A munka elkezdődött.

Összeállítottam egy válogatást azokból a fekete-fehér fotóimból, melyeket a szüleimről készítettem a nyolcvanas években. Ez a sorozat lett jelenlegi tevékenységem táptalaja. Installációk készültek személyes tárgyakból, plexielemekből, papírból, fából és gipszből.

Törzsoldatként tekintek munkáimra, melyek a lehető legpontosabban és legsűrűbben próbálják kifejezni az érzést, amely elindította az alkotás folyamatát. Ugyanakkor számomra is titkosak, megfoghatatlanok, akár a halak.

Képeim, installációim nem elemzések, inkább menekülést jelentenek egy végtelen térbe, ahol minden mozgásban van, az elemek már szelídek, segítőkészek. A levegőben – mert az is van ott – szeretet, vágy és empátia kering.

Játszom.

Védem magam a tudástól, mégis pontosan tudom.

Az összes részlet személyes, már minden fát ismerek, az erdő közös lett.

Fauszt Péter


PÉTER FAUSZT
APPRAISING COERCION

Exhibition and book launch
Opening: 26 October 2023 7 p.m
Open: 27 October - 24 November 2023

In recent years, I was forced to face a series of traumas that have pushed me into the room of my past with a force I could not withstand. This room the grew into a hall, and I built a nest in the middle of that vast space. The things in that room and the emotions flickering within its walls had frightened me first, but I gradually learnt to manage them. Sometimes they were shrinking and at other times they were expanding. Eventually I started to feel at home in this dreamlike world. I started to work.

I put together a selection of black and white photos I had taken of my parents in the eighties. This series served as a fertile seedbed for my current work. I also made installations of personal objects, plexiglass elements, paper, wood and plaster.

I see my works as a stock solution, as they are trying to express the emotions that triggered the creative process as precisely and densely as possible. At the same time, they are a mystery for me, elusive, like fish.

My paintings and installations do not analyse anything, but rather serve as a form of escape into an infinite space where everything is in motion, with the elements becoming gentle and helpful. In the air – as there is also air in this space - there is love, desire and empathy.

I am playing.

I am trying to defend myself against the knowledge of things I know all too well.

All details are personal. I know each tree and the forest is now for everybody.

Péter Fauszt






A kiállítás létrejöttét az NKA támogatta.
The exhibition were supported by the National Cultural Fund of Hungary (NKA).